THERE IS nothing IN THIS
PILL.
The only active ingredient is you.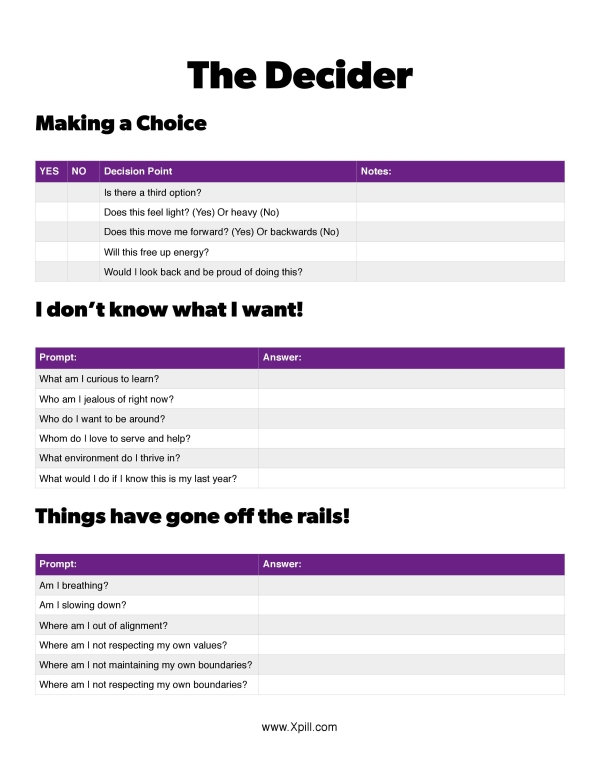 If You had a Simple, Clear Roadmap to Make Any Decision, would you use it?
Stop procrastinating and start succeeding.
DOWNLOAD YOUR FREE DECISION ROADMAP NOW!

It contains brown rice protein, with no active ingredients.

On its own, it cannot heal, fix or alter you in any way.
…And yet, the moment you take it, your whole life can change.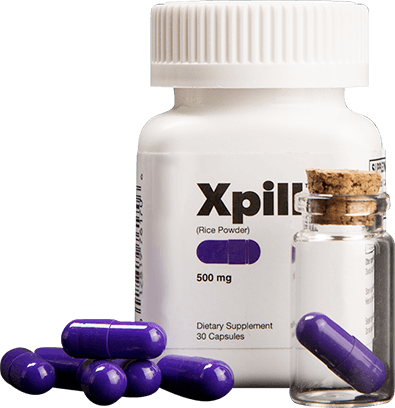 Set your intention.

Swallow the pill.


Activate the pill.

Start your next big adventure.
Note: You do not have to believe this is real to experience a profound effect.

XPill isn't a drug, vitamin, or supplement. It's an experience; a ritual. You decide what the pill will help you do (grow your business, write a book, lose 20 pounds).
The simple ritual, and the act of swallowing the Xpill, is a physical and spiritual commitment unlike any other. Because once you do it, there's no going back.
Xpill, is by definition, a placebo.. The power of Xpill comes, not from its ingredients, but from its central role in a powerful, mind-shifting, life-altering practice that can, and has, changed lives already.

Skeptical? You should be!
Lisa on Xpill
for Masterminds
Maru on Xpill
for her soul
Nicole on Xpill
for acting gigs
Devon on Xpill
transforming food
Eric on Xpill
in the body
John on Xpill
for writing a book
Vishen on Xpill
in the body

You feel confused and overwhelmed
You're trying to "figure things out," and it's getting you nowhere
You know what you want, but you're too busy to go for it
You keep rationalizing what you have instead of what you want
You've "tried everything" and nothing works
You don't have enough money
You're dubious about self help scams
You don't believe any of this works
You're just tired and bored

Now Let Me Tell You
How
It All Started...
In 2010 I went to Burning Man , that mythic, 7-day experimental community that pops up in the Nevada desert like a magical carnival every year—and then vanishes without a trace.
While it has a reputation for being part hippie gathering, part mecca for recreational drug users and part festival for high profile artists and tech billionaires, I've found it to be much more than that: To me, it's a forum for really big, innovative, out-there ideas, a playground of imagination where you can create, design, and experience human connection on a completely different level.
What's more, there's no money used at Burning Man. It's a gift economy—you bring something to trade with and contribute.
I decided to gift people with a movie-worthy experience. Remember in the Matrix when Neo is offered a choice between the blue pill (the world he knows) and the red pill (the gateway to reality)? I wanted to give people the option to wake up and get some clarity about their world—whatever that meant for them.

the
XPill
ritual and practice
But the fact is, the
ritual
and
practice
I've built around
XPill
isn't about what's in the pill—it's about why
you take it
. There's no one goal or
dream
that's
too big
or too small. I've seen people take it to:
When you take Xpill, you won't wake up tomorrow and find that—poof—your life is
magically exactly what you hoped. But if you think about it, that's not how medicine works. When we take medicine, we answer the call to healing and set out on the quest to rescue our best self. It's the start of a journey, not a solution.
And that's what people discover—a journey to uncover their best self.
My friend Michael Liskin emailed me and said, "Dude! You didn't create a placebo—you created a play-cebo. You bring placebos to play. That was the missing ingredient."
Xpill isn't about the contents—it's about the experience. It's the ritual of listening to your intuition, stating what you will do with this pill, swallowing it, and knowing there's no going back.
Xpill is my gift of experience to the world: I want you to stop setting goals and start playing with the power of choice.


If you want to know the
whole back story
, how the
Xpill
was created, more uses for the
Xpill
, and what you can expect to happen when you take it, it's
all in the book
How taking an action and
literally putting it in your body can change everything
The ritual, process and structure that sets you up for success
The community – whether yours or ours, that supports you in your commitments.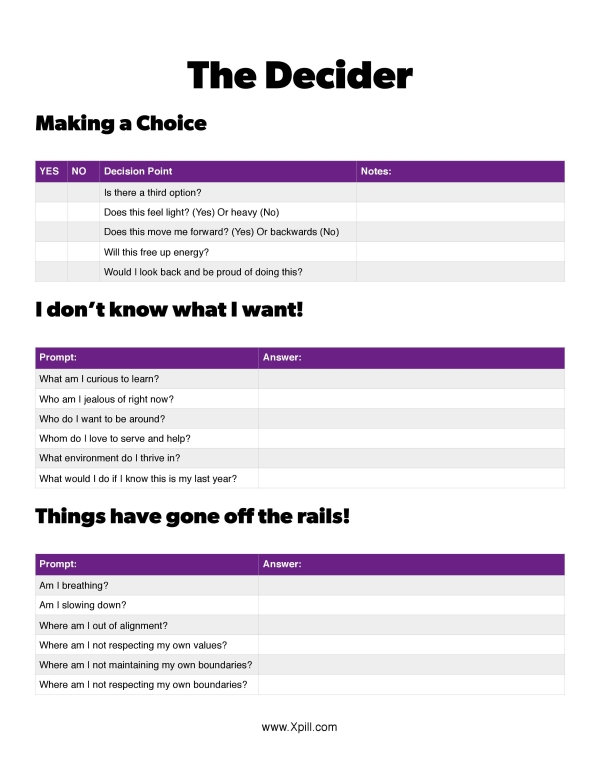 Get your
free download
of the
UTLIMATE DECISION ROADMAP
Stop procrastinating and start deciding!